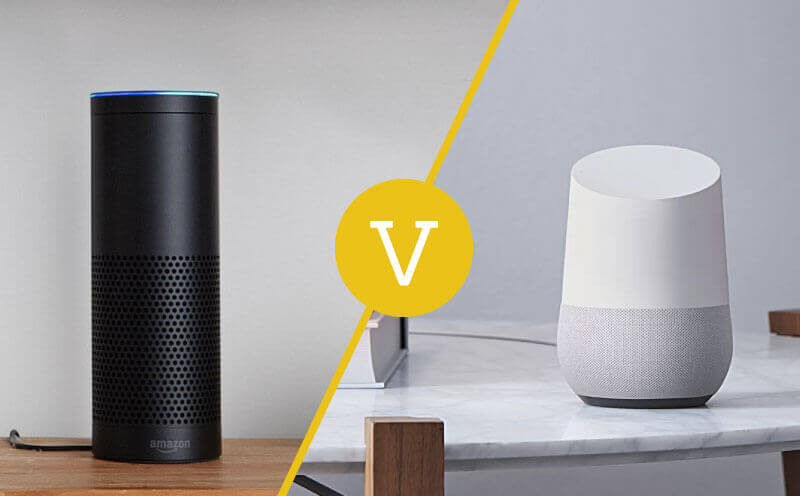 As the holidays approach, more and more shoppers are turning to the web to find the perfect gift for everyone on their list. The convenience of quickly shopping in the comfort of your home is hard to write off – no traffic, no lines, no crowds. And now, with voice assistants you don't even need to have your device in hand, making them not only the best present to give but also the perfect companion for holiday shopping. We've already seen voice assistants impacting how we search in a big way. But if you're like me, deciding whether you should get one or not is the easy part. The real battle is deciding which one to buy. So, instead of harassing Siri with a million questions like "which voice assistant is right for me," we've compared the two most popular voice assistants for you: Amazon Echo and Google Home. What is a voice assistant? Across the board, voice assistants are used to help out with everyday voice-related tasks. For instance, both the Amazon Echo and Google Home can be used to play music, ask questions, set timers and alarms, and control smart home devices like the lights and the thermostat. Yes, your smartphone alone can handle all these tasks, but voice assistants are great when your hands are full or you just can't get to your phone. Setting timers while you're preparing the Christmas ham or skipping a song while you listen to music in the shower just became a piece of cake. Amazon Echo:
If you are the queen of Amazon Prime, the Echo is your ultimate personal shopper. It makes buying everything off of your Amazon wish list easy peasy. That being said, if you have an Amazon account, specifically set up with one-click purchasing settings, the Amazon Echo might not be for you, especially if you're prone to impulsive shopping sprees or are worried about your children making unauthorized purchases.
If you want your voice assistant to double as a speaker, the Echo gets serious bonus points here. According to the sound critics, the Echo has slightly superior sound quality to the Google Home and it's smaller version, the Echo Dot.
If you have always dreamed of having your very own personal assistant, but small talk makes you anxious, the Amazon Echo is a dream come true. Amazon's Alexa platform includes a growing list of "skills," like apps on a smartphone, that can read recipes, order a pizza, call an Uber, and as voice assistants become more popular, Amazon will be sure to add even more capabilities.
  Google Home:
If you and your family are always asking questions, the Google Home is your new best friend. The Home is great for voice search and has better voice recognition than the Echo, plus the ability to decipher between voices. Cool, right?
If you have your entire life tied to a Google account, the Google Home gives all of those wonderful tools that you use a voice (calendar, gmail, etc). Google Home can even tie in multiple Google accounts so you can check your calendar and set reminders in a jiff.
If you use a Chromecast as your streaming device, the Google Home will be the perfect addition to your binge-watching setup because you can initiate and control videos with only your voice through any TV with Chromecast.
  If you're looking for a cheaper option, try the Google Home Mini or Amazon Echo Dot. Both of these options might not have the same sound quality as their counterparts, but still have beneficial capabilities. For instance, the Amazon Echo Dot can make calls and play music and the Google Home Mini is great for Chromecast streaming. Your whole house won't be bumping with the greatest tunes with them, but they can be a great starting point for those curious about voice search technology. If you're still struggling on which voice assistant is right for you or which one to gift, I think the decision comes down to this: If you like music and want to jam out to your favorite songs throughout your home, you should get the Amazon Echo, but if you're looking for a stand-in assistant to help in the kitchen or answer your most pressing questions, then go for the Google Home. At the end of the day, whether you're looking to make your life easier or someone else's this holiday season, you've got great options in the Amazon Echo and Google Home.