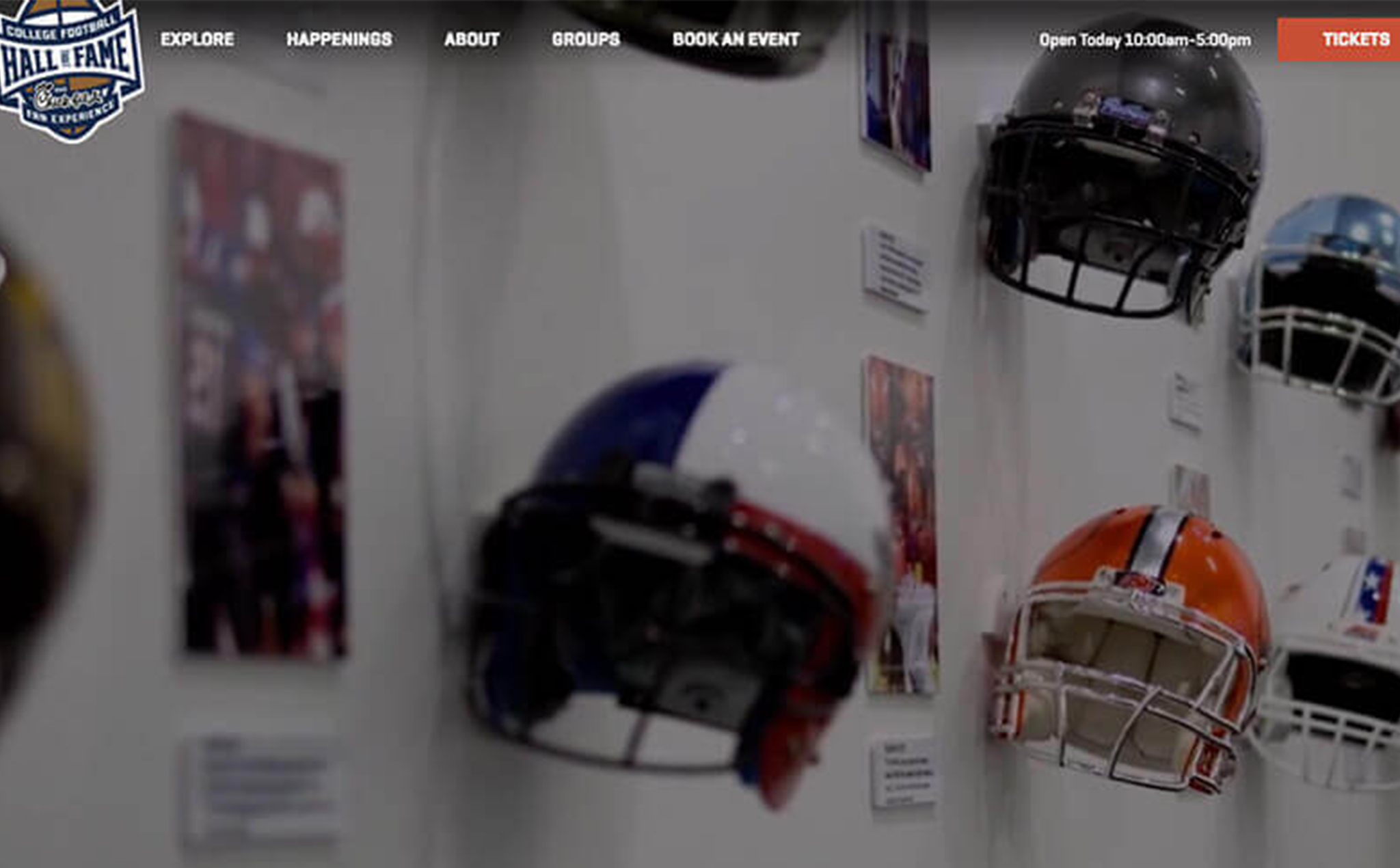 After finding a new home in Atlanta in 2014, the College Football Hall of Fame and Chick-fil-A Fan Experience needed some help spreading awareness and increasing attendance. Physical renovations to the Hall were phenomenal (especially the addition of the LED video board that stands 34 feet tall and 24 feet wide!) Still, the incredible technology and user-experience within the Hall remained one of Atlanta's best kept secrets. It was time to unveil the secret and revamp the Hall's website.
Coach's Whiteboard
Redesigning a website and creating something amazing obviously doesn't happen overnight or by one person. Swarm worked closely with the College Football Hall of Fame team everyday from the very beginning to make sure we got the right pieces of information and struck the right balance between fun and informative.
Part of Swarm's personality is that we aren't afraid to ask the tough hitting questions. Questions about data, results, revenue, end goals, and most importantly, why? To help us find the answers, Swarm dug deep into a discovery, including sitting down with stakeholders, other agencies, sending surveys out to people who have visited the Hall and more. The people we chatted with helped our team understand why a new site was needed and what the new site needed to incorporate. All of these insightful conversations boiled the Hall's needs down into to two main objectives: Awareness. Attendance.
Understanding the purpose and the goals behind the site helped our designers craft beautiful designs with the user's experience front and center. We also wanted to create a site that wouldn't "go-out-of style". It's easy to throw every fad of design onto a website and call it a day, but we wanted features on the site to still be user friendly and breathtaking several years down the road.
Letting the Players Play Their Game
With the discovery completed, it was game time for our designers. Creating wireframe after wireframe, our design team implemented every nugget of knowledge that we had learned throughout the discovery process. Their designs led to pages with mesmerizing features like parallax scrolling, simple embed videos and a top navigation so clean, even our grandparents will be able to use the site with ease.
The homepage may or may not be our baby. It's simple to understand, easy to manage in a CMS and makes users want to break out into their school's fight song. Its look and feel transcends its way throughout the rest of the site, allowing fans to catch glimpses of the amazing exhibits the Hall offers, while providing information to help them get there IRL.
With awe-inspiring designs ready to go, our development team totally crushed this project. The team worked hand in hand with the designers throughout the process to make sure that each element was brought to life the way it was originally envisioned. They spent more hours than we should probably admit making sure the site runs perfectly, and sometimes had a little too much fun implementing new features. If the devs were a college football team, they'd be bringing home the National Championship trophy for this bad boy.
Touchdown!
April 18, 2017. The day that the world (or at least the part of the world that cares about football, which let's be real is everyone) finally saw what Swarm had created for the College Football Hall of Fame and Chick-fil-A Fan Experience. And we are so proud of it.
From discovery to design to content writing to lots (and lots) of meetings and our fair share of good and bad days, this project is something that will live in the Swarm Hall of Fame forever. It taught us new processes and to believe in our (website) dreams.
To our client who gave us the opportunity of a lifetime, thank you. Your support, revisions and classic April Fool's prank (inside joke) are lessons and moments that we will always cherish. We hope you enjoy the site as much as we do.
Visit the new College Football Hall of Fame and Chick-fil-A Fan Experience's site at: cfbhall.com