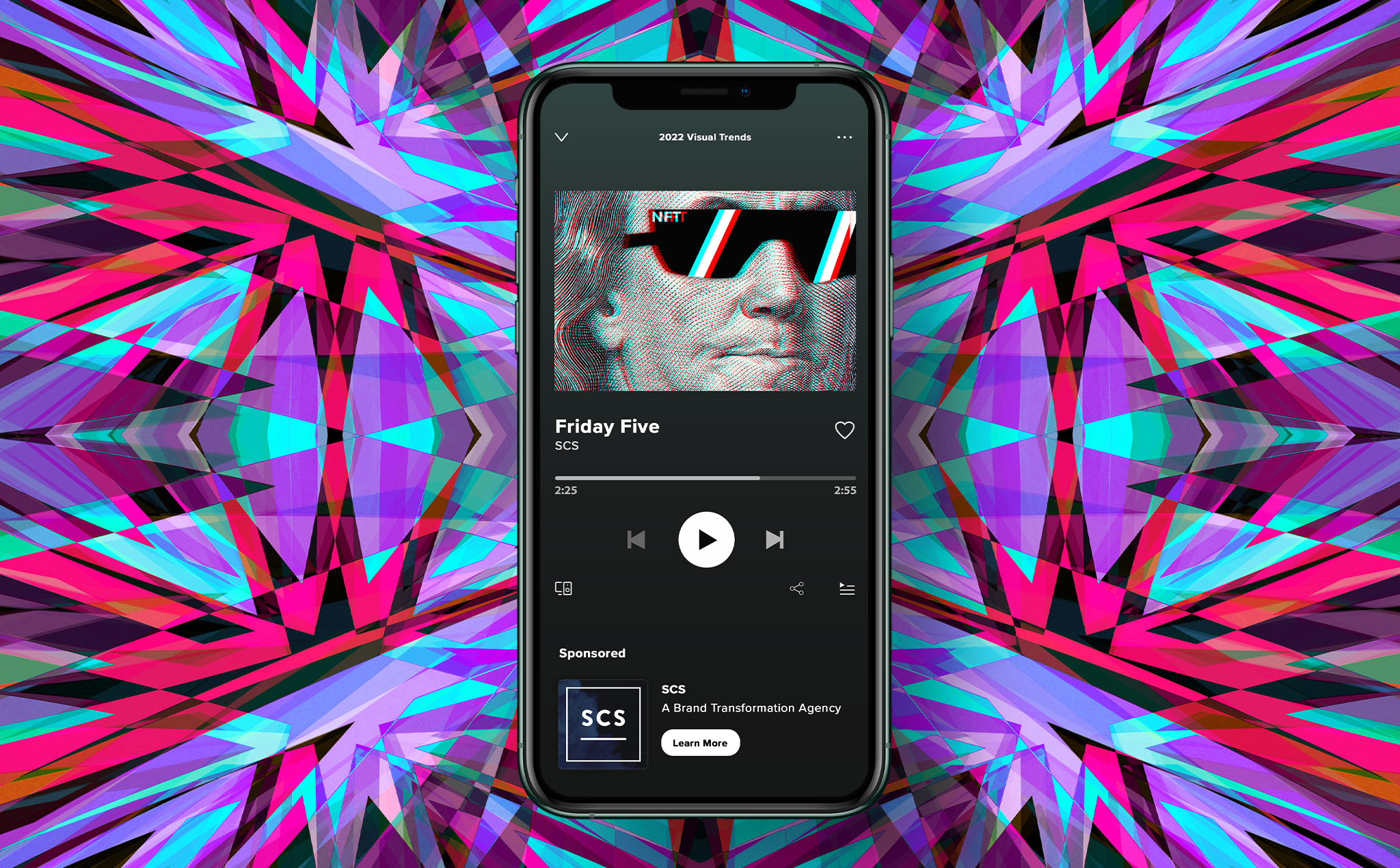 Five articles that have us buzzing this week 
Spotify introduces a new ad format for podcasts that puts clickable cards inside shows
Spotify has a new ad format powered by their streaming ad insertion technology, called Call-to-Action-Cards (CTA Cards), which displays virtual ads inside the native app while the audio ad plays. CTA cards are customizable with brand images, text, and clickable buttons that encourage shoppable actions from listeners. Spotify understands that listeners are most likely running their app in the background of their everyday lives; thus, it also offers CTA cards on podcast episode pages and targets listeners to interact within seven days. The format will evolve beyond the landing page with talks about the video, voice command, polls, and Q&A, so it's prime time for brands to explore Spotify's real-time targeting as they move towards modernizing the format for shoppable content. CTA cards could be the best alternative versus asking customers to remember a URL or coupon code.
Here's How Instacart Plans To Become A Major Ad Platform
It's still early for Instacart Advertising, but as the brand advances its ad tech capabilities, Instacart hopes to compete with their valuable shopper data. CPG brands can purchase programmatic retail media in more places than ever. Still, Instacart differs by offering advertisers an array of metrics, including granular data sets on the in-category market share that rivals Amazon, Walmart, and Kroger. The platform is excellent for big brands, but smaller CPG brands eager to see their product featured in search results on the home page or in personalized lists can benefit from its rich media options. It's also easier for brands to enlist their products on the platform and cheaper than competing for shelf space.
TikTok Content is Coming to More Screens via New Deal with Atmosphere 
TikTok has announced a new deal with video content provider Atmosphere, which repurposes video content from various platforms and curates it for TVs in restaurants, bars, gyms, and more. Not only does this provide new exposure for TikTok influencers, but all creators, including brands. TikTok is uniquely entertaining, and they've found a way to use it for out-of-home viewing, without mobile devices. As the platform's content begins to appear more in waiting rooms and venues worldwide, this could be an incredible opportunity for brands struggling to drive awareness and lead generation through current video display options. 
8 Emerging Visual Trends for 2022 
Of course, you don't have to update your visual approach this year, but doing so can yield some solid results. Many digital marketing experts recently shared their insights on what customers will soon expect from brands in their social media feeds. Some of our favorite trends that were the most interesting included, The Metaverse, Psychedelic Art, AI-Generated Music, and Acts of Self Love. The main themes explored digital spaces, playful and bold motifs, hyper-personalized ambient themes, minimalist and asymmetric lines, and alien shapes.  As the visual world transforms around us, in real life and online, it could be worth considering some of these futuristic trends in your strategic plan that adds a new level of customer immersion.
Understanding the Connection Between Social Media and Great Customer Experience 
57% of the global population (including business decision-makers) use social media today, which means that online customer service is crucial to the success of a brand. For brands hoping to build a two-way relationship with customers and build loyalty, we recommend developing social media strategies with customer brand experience in mind. Brands can have their leadership engage more, provide informative, non-sales content in customer-led communities, moderate content, and be responsive with personalized messages via modern communications (e.g., text, email, and DM). You want customers to have a positive experience with every touchpoint to reinforce a positive culture, which leads to a positive customer experience.