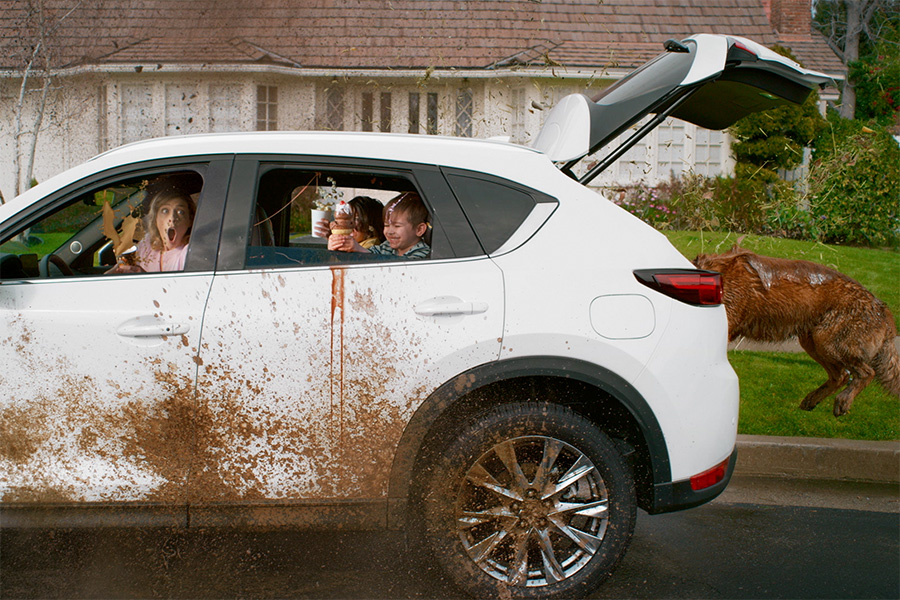 It started with Mothers asking us to help them promote their Speed® Line—an entire family of products, each one specifically designed to tackle a different kind of mess and help you get your car back to a showroom shine, blazing fast. Our initial meeting went so well that they came back and asked us to help them kick off a game changing new product, too—CMX Ceramic Spray Coating.
Right way, we realized though, that these were very different products for distinctly different audiences—and that we would need to tailor a uniquely creative and totally on-brand solution for each. With supporting print and social assets for each, of course. No problem.
Our Speed Line "Everyday Happens" solution, perhaps ironically, took less than a second to shoot. In order to inspire confidence in the Speed® Line, we created a spot shot in glorious 1000fps super slow motion that featured a white SUV being assaulted by a mind-boggling array of cringeworthy messes all at once. While the driver, product in hand, calmly stands by to make short work of the mess.
Our CMX Ceramic Spray Coating on the other hand, took a completely different approach. Their new ceramic product is truly a game-changer, so we wanted to give it a proper introduction. Elevate it to extraordinary right out of the gate. So we created a spot designed to launch, demonstrate and educate, but also visually wow. Basically, when Mothers needed a hard-working demo spot, we took it to the next level, as usual. Hey, all we had to do was overdeliver—like usual. NBD.
---
Also published on Medium.