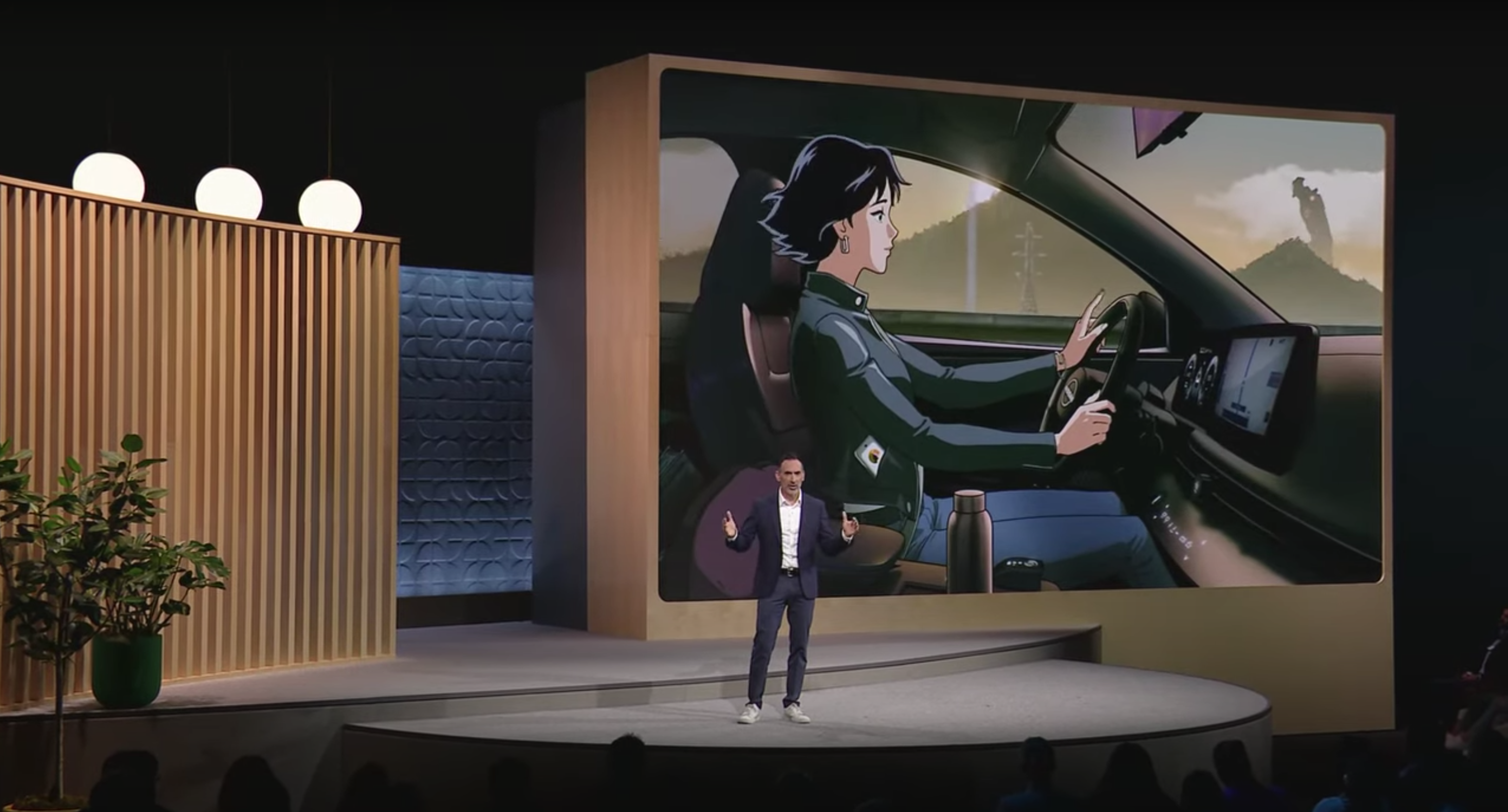 Conversational AI in Google Ads Interface
Marketers will be able to chat with the ads interface to create Google Ads with generative content. Explain what you'd like to do to the interface and point toward the landing page the ad will drive to, and Google Ads will provide headlines, content, keywords and images for you to select from or modify.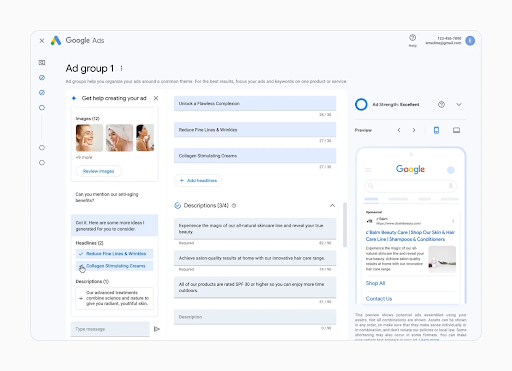 Conversational Ads Creator Image from Google
Automatically Created Ads (ACA), which began rolling out last year, leverage content from landing pages and existing ads you've created to present dynamically adapted ads based on specific search queries. This feature will also be supercharged with the integration of generative AI.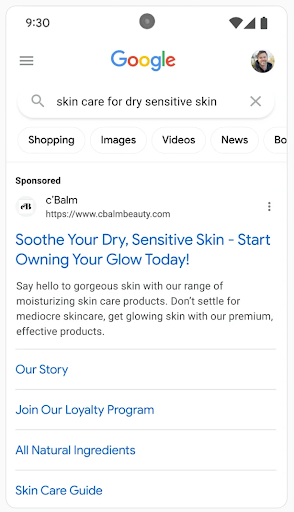 AI-Enhanced Performance Max
Performance Max allows advertisers to access consumers in more places, including YouTube, Search and Discover. Google claims advertisers who use the existing Performance Max platform achieve 18% better conversions at a similar cost per action, and generative AI tools will be integrated here as well. The generative AI integration will learn about your brand from other ads, your website and more, and provide the ability to create a range of assets to scale across Google's channels in your advertising, including pulling in images from your site and generating new ones with AI. This functionality will also be available through the conversational ads experience.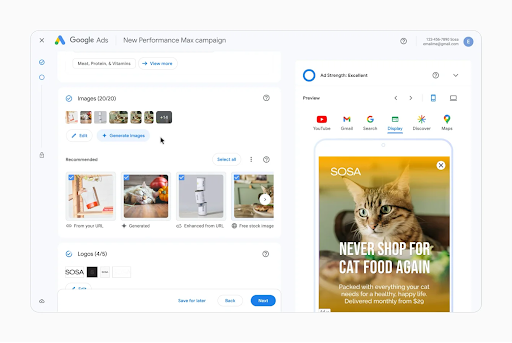 Performance Max Interface Image from Google
AI-Powered Commerce
The Merchant Center is getting a facelift with Merchant Center Next, and that includes Product Studio, which helps businesses create product photography using AI. The visual tool allows users to modify backgrounds around product shots, increase resolution, as well as remove clutter from existing photography. Want to show your product below a Christmas tree for the holidays? You'll be able to simply type in the scene you'd like and Google will generate festive options to choose from, without the need for a new photoshoot or Photoshop work.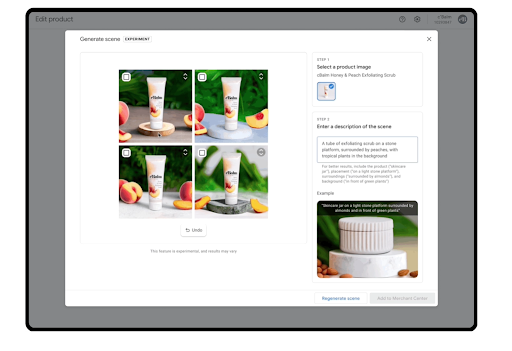 Product Studio Image from Google
The complexity of loading products into Google for shoppable ads is also becoming simpler in Merchant Center. Instead of manually adding each product, Google will do its best to scrape all the products from your existing eCommerce site to create listings which you can then correct or modify.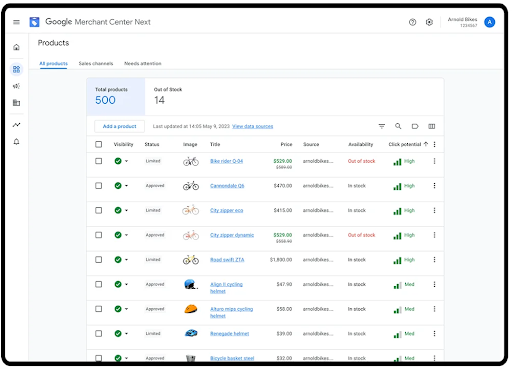 Google Merchant Center Image from Google
The Future of Conversational Search
Google's conversational AI search experience is called Search Generative Experience, or SGE for short. Still in experimental mode and available in Search Labs to explore, Google is expanding testing of new ad formats that will appear as consumers converse with SGE, providing a range of ads with even greater context.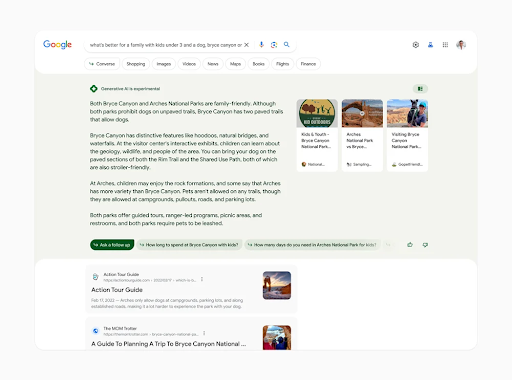 Information Search Experience in SGE
Like Bing's new AI search function, SGE allows consumers to interact with Google in a natural conversational way, and receive a blend of natural language answers and summaries, as well as adaptive responses that present content tiles based on the conversation. For example, questions related to a product search will reveal more product options, while questions about travel tips might reveal a range of blog post tiles and TripAdvisor summaries.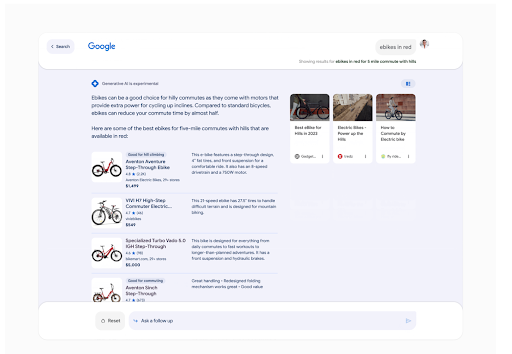 Commerce Search Experience in SGE
Video and CTV
Buying ads targeting consumers viewing video on connected TVs is about to get a whole lot easier in Display and Video 360. Marketers will be able to evaluate between streaming channels and even evaluate potential results between deal types like Preferred or Programmatic Guaranteed.
The new TV and Video Report dash will also provide insights into CTV, providing better attribution and understanding of how your video is being experienced across channels by consumers.  
The new Video Views campaigns will maximize video engagement across all of Google's platforms, with results indicating as high as 40% more views than skippable in-stream video campaigns. 
With the introduction of 30-second unskippable ads on YouTube, this shift will make buying ads through Google similar to buying ads on television.
And for those who are watching video on the go, particularly Gen Z, a number of enhancements are coming to YouTube Shorts, as well, continuing a trend we see with social networks adapting to TikTok's sudden dominance for mobile video consumption.
And Many, Many More
New Demand Gen campaigns are designed to drive a desired action. Excitingly, the targeting options for Demand Gen campaigns provide advertisers with the ability to create custom seed lists from first-party data or YouTube users and then expand those audiences with lookalike groups using three levels of targeting granularity.
Better insights are also coming, both in Merchant Center Next and through an array of improvements such as visibility into which assets are resonating which what audiences.
Lastly, Smart Bidding, which was already smart, will be getting smarter with the introduction of a large language model to enhance performance.
Marketer Takeaway: While these are the key announcements made at Google Marketing Live, they're by no means every new tool at your disposal with Google's massive list of announcements. While the volume of change happening with their platform – including the shift to GA4 – can be overwhelming, there will be a net benefit to marketing performance as these changes take effect, providing you with greater operational efficiency, deeper insights and better results. 
The SCS Strategy and Media teams are available to help you navigate and implement these changes. If you'd like to learn more about how we can help you optimize your marketing performance, it's our favorite topic. You can email us here and we'll be in touch.
P.S. – Most of these tools will need GA4 to properly work, and the deadline to switch your analytics over is coming up quickly.
---
Also published on Medium.