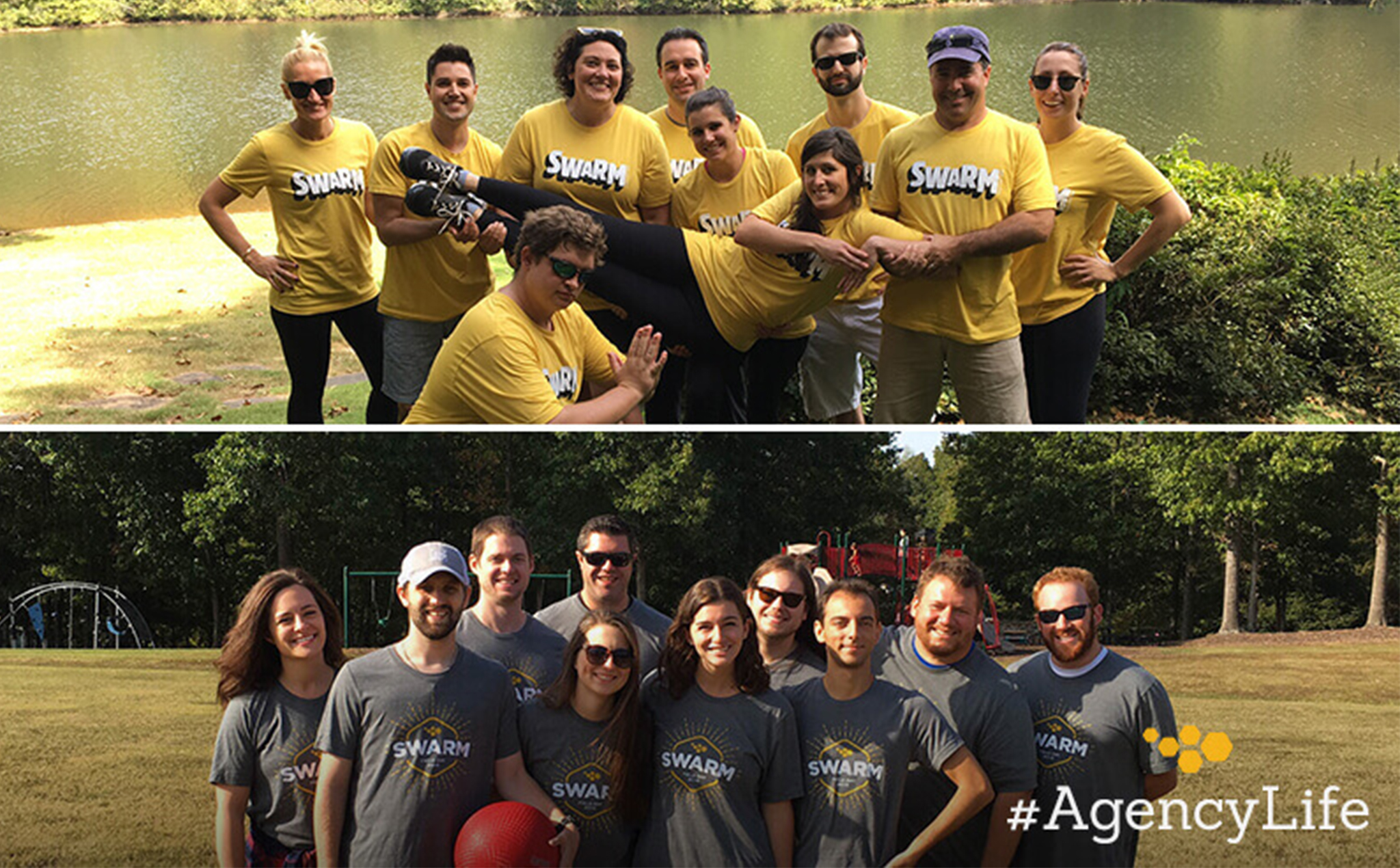 At Swarm, we value transparency, service, hard work, continued improvement and quality. We also value community. We love the community that we have formed with our clients and our partner agencies. Most of all, we love the community that we have created with each other.
From hanging out on the couches enjoying a beer from the beer cart, encouraging each other in our weekly reviews, and brainstorming bold ideas for our clients, we genuinely enjoy each other's company.
At Swarm, we're also pretty competitive people. October 14 was not only one of the prettiest days of 2016, but it also marked Swarm's 2nd Annual Field Day.
Let's take a look at how the battle between Team Yellow and Team Gray went down.
First of all, check out this view. So many heart eyes emojis.
Team Gray is all smiles before the first event of the day, kickball.
Team Yellow is also ready to take the field for the day's first event.
With a slightly unfair advantage, Team Gray defeats Team Yellow 17-5 and takes the lead in the day's events.
SCOREBOARD
Team Gray – 1
Team Yellow – 0

While Team Gray may have taken the "V" in kickball, Team Yellow came ready to fight in the relay race.
Julie and Andrew ready to face-off in the "Pantyhose Swing" phase of the relay race.
SCOREBOARD
Team Gray – 1
Team Yellow – 1
Yikes, it's all tied up. As I said before, we're a hive of competitive people, so the final event, Tug-of-War, took on a whole new meaning.
After a day of intense competition, the 2016 Swarm Field Day Champions are…
TEAM GRAY!
Outside of the official competitions, The Hive enjoyed going rogue and riding in the back of pickup trucks, drone racing and refueling with some delicious BBQ.
Lunch time? Oh, we thought you said Drone Time!
Selfies in the back of a moving truck are much harder than they appear.
Field Day 2016 was one for the books and we can't wait to see who takes the trophy (and bragging rights) home in 2017.
Swarm takes the idea of #AgencyLife to heart, since what makes our Agency so great is our people. Whether you're a corporate or creative company, find new ways to bring your team together. Company culture has to go beyond your office walls.