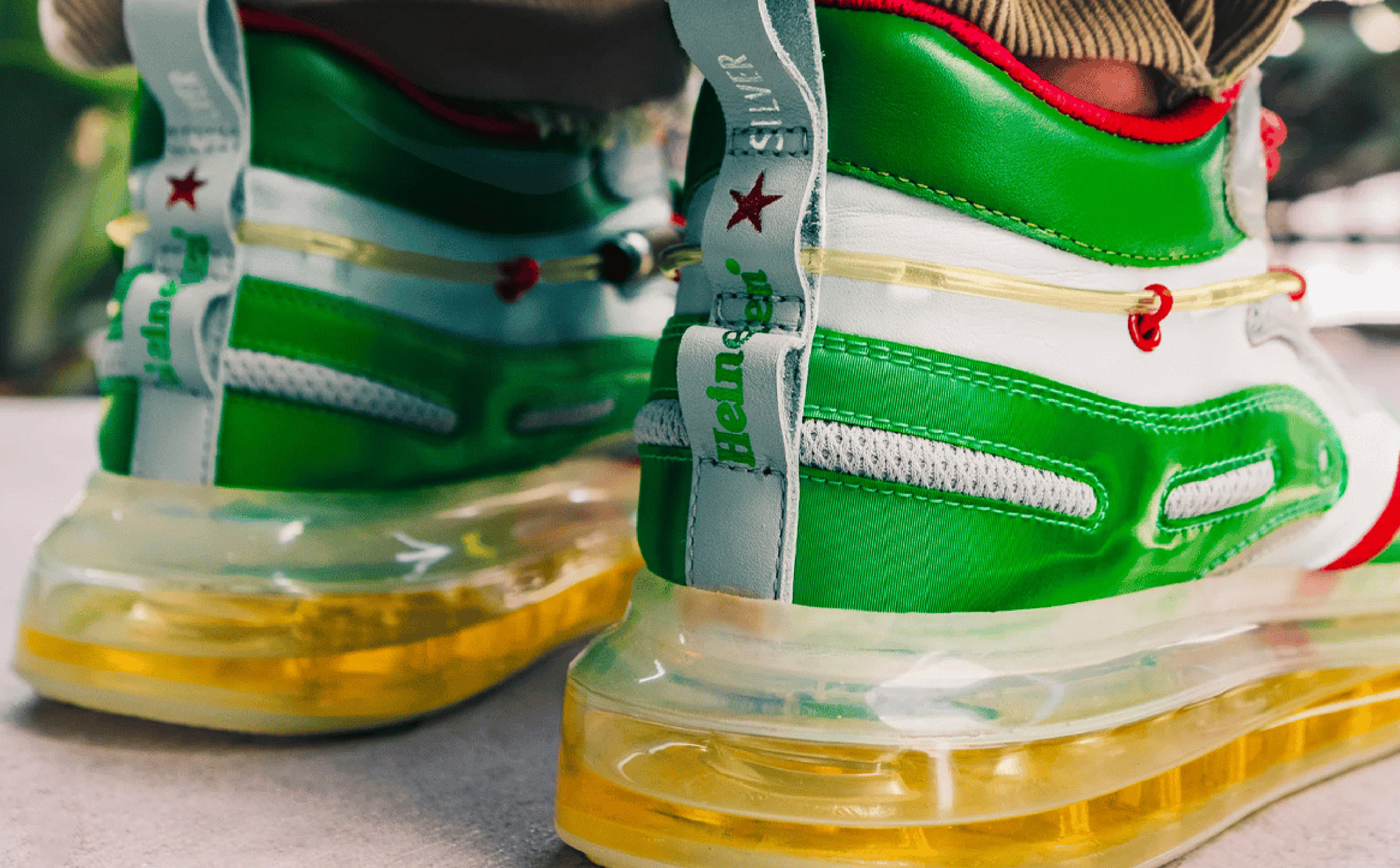 At the center of this week's Friday Five is innovation, and all the risks and rewards that come with it. Economic pressure tends to prove which bold moves pay, and which don't – and act as an impetus for new, long term strategies. Read these five articles to see how brands are charting new paths forward and correcting to sail against economic headwinds.
This is what has us buzzing this week. 
Heineken gets into the sneaker game in collab with Dominic Ciambrone
Brands are constantly looking for interesting collaborations to tap into niche audiences, and fewer niche audiences are as desirable as sneakerheads. What makes Heineken's newest partnership unique is they have partnered with one of the most famous and expensive sneaker designers Dominic Ciambrone, aka the Shoe Surgeon, to create 32 pairs of "Heinekicks". Using colorways matching Heineken's iconic green, silver, and red branding, each pair comes equipped with a removable metal bottle opener on the tongue and has Heineken Silver beer injected in the soles to give the wearer an experience as smooth as the beer. 
Heinz taps state-of-the-art AI to design its next ad campaign
Heinz used the AI art generator Dall-E 2 to prove that even an algorithm prefers its ketchup. Combining random terms to create pieces of art, the Heinz team fed the software random ketchup-related phrases.  From a stained glass window, to a bottle floating in space, the results were weird and varied, but all of them contained elements of the brand's trademarked shape and label. 
Instagram users call for the app to stop trying to be like TikTok, with Kylie Jenner joining the push
Our Instagram feeds are no longer curated with images and videos by the people we actually follow, they are instead now dominated by short-form video clips from profiles you don't follow and have probably never heard of. This approach of serving random interest-based videos worked great to make TikTok the hottest social app, but these changes to Instagram have angered Instagram loyalists as a blatant attempt for the platform to maintain relevance. With a Change.org petition and Kylie Jenner and Kim Kardashian now demanding a return to the old Instagram, will Meta cave?
Apple is building a demand-side platform
After blowing up the digital ad business with its iOS 14.5 update last April, Apple appears to be looking to build its own demand-side platform (DSP). It remains unclear if the DSP will be geared towards serving ads on Apple's owned properties such as the App Store, the millions of iOS apps, or web browsers, but the DSP will give Apple full control of how and where the data is used. Brands have been dying for access to Apple's walled garden, so they will be lining up to take a bite. 
The direct-to-consumer craze is slamming into reality 
Brands like Warby Parker, Allbirds, and Stich Fix were once the darlings of retail by combining low-cost social ads and avoiding traditional brick and mortar to increase profit margins. However, 2022 has been a rude awakening as direct-to-consumer (DTC) companies have already lost billions in market cap. With a combination of rising costs in Meta ad prices and inflation shrinking margins, these former disruptors are needing to quickly pivot to maintain their marketshare. While there are some costs they can't control, the one way DTC brands can look to get back on track is by diversifying beyond Meta and developing and testing content on more digital platforms.