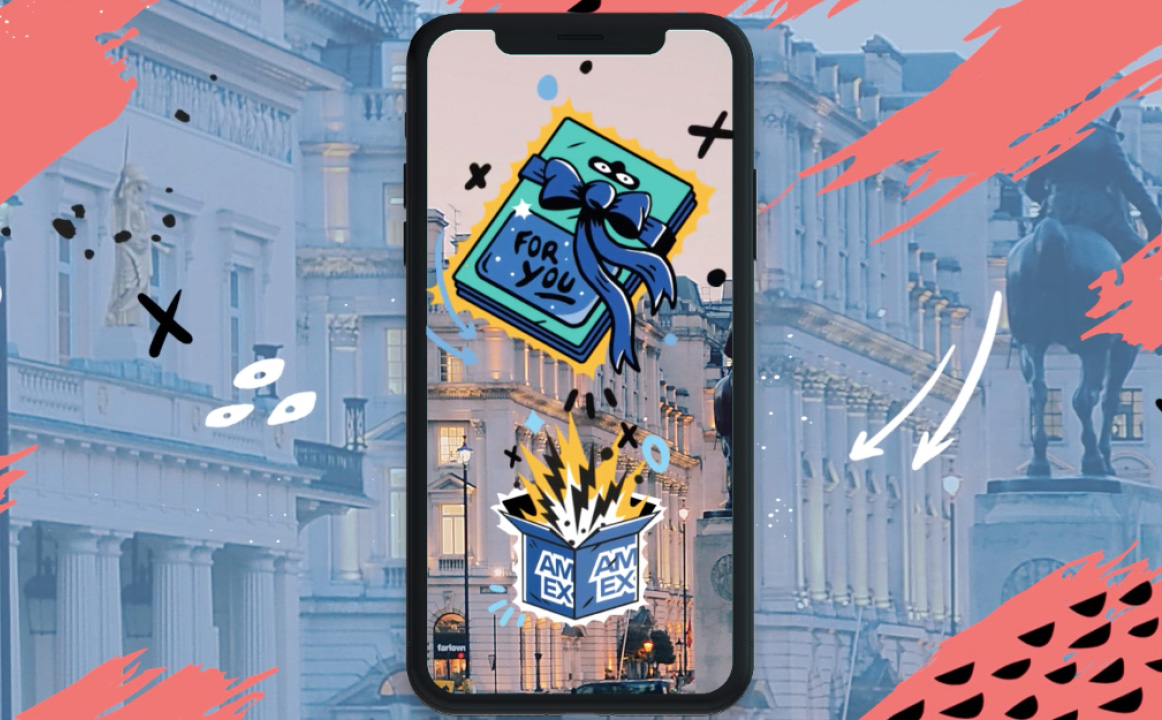 American Express Launches AR Treasure Hunt in UK
No one can resist the draw of treasure. While Pokemon GO's 500 million+ downloads and multi-billion revenues certainly sparked a new interest and perspective around exploring the world to find hidden treasure, treasure hunts have been ingrained in our cultural narrative for centuries. From Indiana Jones to It's a Mad Mad Mad Mad World, the treasure hunt has leaped into entertainment, even when there might not even be a treasure to be found, we're captivated by the mystery.
Lately a number of brands have been tapping into this, including Perrier's virtual scavenger hunt with artist Takashi Murakami in the annual Metaverse/Conference ComplexLand and Coors Banquet hiding a fully restored '77 Pontiac Firebird in thier origin-state of Colorado, Brands seem to be falling in love with how emerging technologies can enable buzzy, exciting engagement online and in the real world where the stakes are amazing prizes. Instead of customers leaning back for a spot or using autofill to enter their basics into a form field for a sweepstakes, digitally enhanced treasure hunts turn them into active adventurers, living in a brand story, with something of real value at stake to chase alone or with friends.
Most recently, American Express has scattered prizes around the United Kingdom, accessible through augmented reality in hidden (and not-so-hidden) locations available to discover through a mobile map. Once the hunter reaches the point on the map with the treasure, they switch to AR mode to look around and find the digital item, which translates into a real-world prize. Supported by promotional murals created by German artist Andy Gellenberg and a media partnership with Yahoo!, the prizes include tickets to live theater, festivals and sports events, as well as vouchers for free items like premium coffees.
As Niantic, the creators of Pokemon GO, open up their AR systems to developers (and brands), we expect to see this type of branded adventure become more commonplace, and are excited to find a brand partner to develop one with.
2023 Will Be a Big Year for VR
In Q1 of 2022, Meta had 90% market share for VR device sales on the massive success of the standalone Quest 2 device, which has seen hits like Beat Saber, essentially the classic Rockband game reimagined with drums and lightsabers, reach nearly $100 million in revenue in 2021. And sales are accelerating. Vs the same period last year, global VR device shipments are up 241.6%.
But 2023 will see a number of new choices for consumers as we enter this new generation of powerful, simple standalone devices that don't require cables or an expensive computer to use.
Meta will be launching an evolution of Quest called Quest Pro. With at a much higher price point, the device will have much higher processing power (think: Going from a PS4 to a PS5) as well as the ability to render augmented reality experiences with external, color cameras.
Apple rumors continue to shift around the release date of their first headset, with most analysts expecting a release, or at least announcement, in Q1 2023. An Apple VR/AR hybrid device would no doubt become a must-have item for fans of the brand, and they've enlisted big name entertainers like Jon Favreau to create content for the platform. No doubt, they will also tap their huge iPhone App developer network to ensure that their system launches with a few "must have" experiences.
PlayStation's PSVR2, designed for the PS5, will also be launching with a range of titles from The Walking Dead to classics like Resident Evil and indie favorites like Among Us, likely as well as the standby cross-platform catalog of interesting social and entertainment experiences like Netflix VR, VRChat and BigScreen.
Chinese firm Pico is also likely to begin making a greater foothold in North America in 2023. Currently focussing on Asia and Europe, their flagship device has comparable specs to the Quest 2. Their recent acquisition by ByteDance, parent company of TikTok, is likely to give them a large war chest for marketing and content acquisition if they decide to make a bigger play.
Tech Giants Create Metaverse Standards Group
In 1986, the Joint Photographic Experts Group (JPEG) was formed to help standardize how images are used on the web. In 1992, the JPEG standard was recommended, and now provides us with a simple way to capture and view images across devices and platforms, regardless if they were posted to Facebook or embedded into an ecommerce site. Without interoperability standards, sharing photos would be a lot more difficult, if not impossible depending on what camera or social network you're using.
With so many disparate groups working to create their vision for a Metaverse, it's imperative for them all to connect properly and function as an interoperable, interconnected system, that there be a set of standards for their creation. If not in whole and how they function, then at the very least how assets are used within them. Think of the Metaverse as a kind of 3D World Wide Web. Each web page is different, but because of interoperability standards, your browser is able to access all of them with ease, and a photo from one can be used on another.
Enter the Metaverse Standards Forum. Less concerned with defining what the Metaverse is, the group, composed of hundreds of organizations including Meta, Microsoft, Nvidia, Unity and the World Wide Web Consortium, will likely begin by focussing on the building blocks of the Metaverse. Pictures are to the web as 3D objects are to the metaverse. Currently, a 3D object doesn't know if it's upside down, and the many formats and properties mean that the notion of bringing an object, for example a digital sword or apple, from one world to another, might simply not work. One example of such a 3D format being explored is glTF, but these are early days to predict the final outcomes, and we expect it would end up with a name that rolls off the tongue a bit better.
To dig deeper, WIRED offers an interesting overview here.
Looking for more on Web3? Download our white paper here.
---
Also published on Medium.